Wing Morphology – How native are my bees?
In the spring of last year, I decided to investigate how native my bees were, so I conducted wing morphology on all of my colonies, a technique which involves measuring positions of vein intersections on the bee's main wing.  The results were a surprise, as it looked like my bees are native, or at least near-native anyway.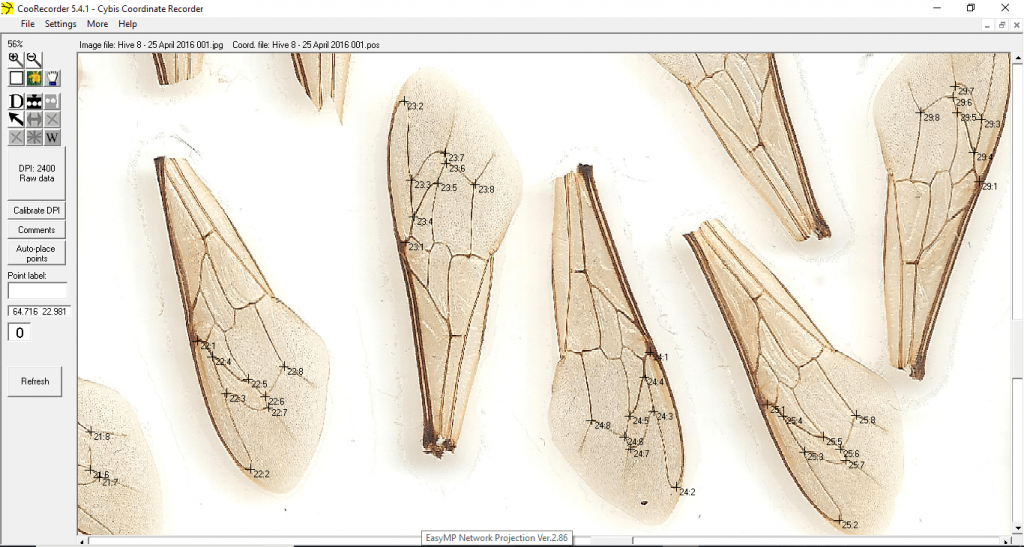 Using the software tool CBeeWing, colonies showed results which classified the samples as being between 80%-100% Apis mellifera mellifera.
Where did I get my native or near-native bees ?
Six years earlier, I caught a small swarm from my garden fence, here in rural Northumberland.  It would have struggled to fill a pint pot.  I had five colonies at the time, but these bees were different.  They had less colour on their abdomen and they behaved differently.  I put them in a polystyrene nuc.  In the evening they filled the entrance and looked out, so all you could see was a sea of little bee faces starring out of the small round hole.  They seemed considered and organised and I'd swear they were watching my every move.  None of my other bees did this or had this attitude!
The rest of the season they flourished, they were very thrifty on stores during the winter and appeared to get going quickly as they went into the spring.  They were a pleasure to handle and they always appeared to be purposeful and effective in whatever they were doing.
I decided then that I wanted all future queens to come from this colony.
How do I carry out wing morphology ?
The technique I use for wing morphology involves removing the right wing from a sample of around 30 bees from a colony.  These wings are placed carefully on a piece of sticky side up sellotape.  A glass microscope slide is placed over the wings and the sellotape is cut to size and labelled.  This slide is then scanned at the highest resolution on my all-in-one printer to produce a .jpg file.

I tried free software for the analysis of honey bee wings but decided to buy the licence for CBeeWing from Cybis and to download it.  The .jpg file from the scanner is opened in CBeeWing and the key points of the veins on each of the wings is plotted using the system.  It takes some time to learn how to do this but after a couple of samples the process speeds up so you can do a sample of 30 wings in about 15 minutes.
The three main measures that are used for wing morphology are cubital index, discoidal shift and Hantel index.

The next stage is to go into the analysis part of the CBeeWing software and to look at the coordinates produced.  The software shows how these coordinates fit with the three main measures used for wing morphology analysis, against the normal ranges of different strains of honey bees.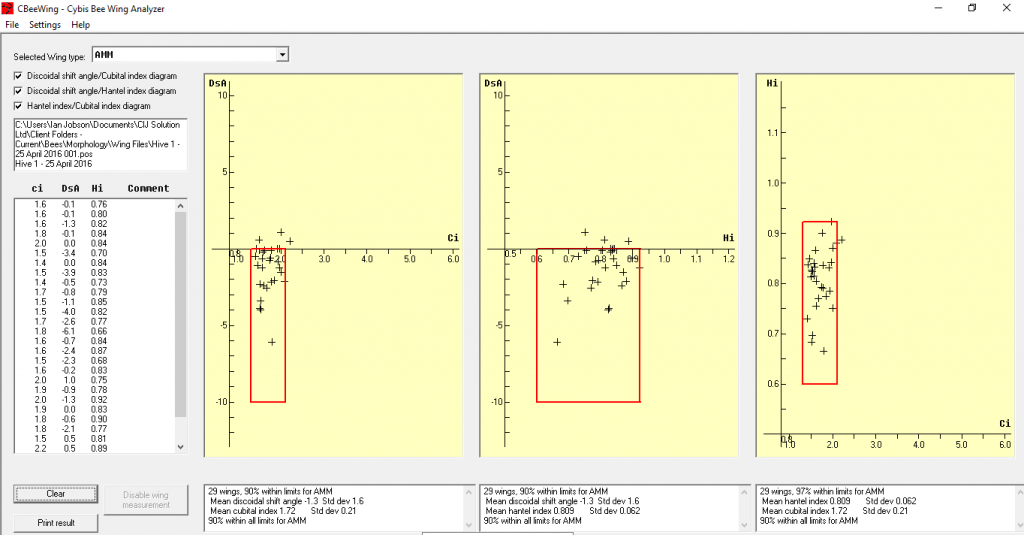 The results of the analysis are shown in the small windows at the bottom of the screen and can be printed out in a report.
Summary
The wing morphology analysis I carried out last year showed that the samples of bees taken from my colonies, ranged from between 80% to 100% of the profile of Apis mellifera mellifera.
If you have found this post interesting or helpful, please comment below and like/share on Facebook.  If you would like to receive future posts by email, please subscribe above.