The Best Beekeeping Books I read on my Master Beekeeping Journey
My guide to the Top Beekeeping Books
During my journey from complete novice to master beekeeper I read many books, to learn from the experience of others, understand the latest research and take on board the core knowledge that is needed to pass the BBKA modules and assessments.  Some of those books I would like to recommend to you as the ones I found the easiest to read and most helpful.
In each section I have listed my "Top 3" books.  From all the books below there are four which I give "pride of place" in my book case.  These are the ones, which I found most fascinating, because of their great graphics or photos, amazing research or because they were written in an inspiring way.
Your Library or Beekeeping Association may have copies of these books that you can borrow.
You can click on any of the images to link to amazon to view or buy any of them if you wish.
Northern Bee Books is also another great place to buy beekeeping books.  They are specialist suppliers of Beekeeping books and often have the books that are more difficult to find.
Top 3 Free Beebase Beekeeping Publications
Common Pest, Disease & Disorders of the Adult Honey Bee – Every beekeeper in the UK needs to have read this document.  It is written by the National Bee Unit.  As a beekeeper it is important to understand the signs and symptoms of bee health issues as well as our legal responsibilities for reporting notifiable pests and disease.
Managing Varroa – This document is written by the National Bee Unit.  It is very helpful for understanding the life cycle, resistance and an integrated pest management approach of the Varroa Mite.
Rearing Queen Honey Bees in a Queenright System – There are many approaches which can be used to rear queens.  The national bee unit support and use an approach where the queen remains with the colony during the production of queen cells.  I learnt this approach on the NDB advanced course and now use it for my queen rearing.  It's simple and requires a minimum of equipment and colony resources.  It is an ideal method for the small-scale beekeeper, although it does require grafting.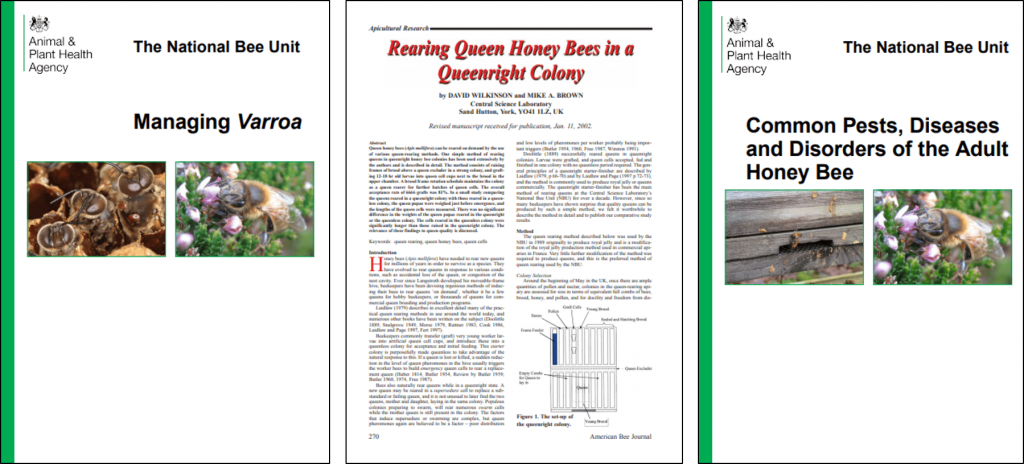 Top 3 Beginner Beekeeping Books
Haynes Bee Manual – Claire & Adrian Waring – Classic Hayes manual style.  It is clear, simple, structured and the photos and graphics are excellent.  This is a great first book if you are just starting to get into beekeeping.
Collins Beekeeping Bible – I really liked this book when I was first starting in beekeeping.  The illustrations are good and it is well written.  It is very readable and is also a good reference book.
Practical Beekeeping – Clive de Bruyn – I found this book a great help when I got my first bees and needed to understand the tasks involved with the beekeeping calendar.
Top 3 Intermediate Beekeeping Books
Guide to Bees & Honey – Ted Hooper – This is a key book in moving up from keeping your first bees during the first season or two.  His approach to queen rearing for small scale beekeepers and understanding how to process honey properly are areas which he covers in a very readable way.
Biology of the Honey Bee – Mark L Winston  – This is one of my "Pride of Place" books.  It is about so much more that the title suggests.  He captures and summaries much of the research and current knowledge about honey bee biology, behaviour, ecology, reproduction and diet.  If you want to understand honey bees, this is a great book.
Beekeeping Study Notes (Modules 1,2,3) – JD & BD Yates – This is a "must have" book if you are studying for BBKA Modules 1,2 or 3.  It is also a good reference document.
Top 3 Honey Bee Behaviour Books
Honeybee Ecology – A Study of Adaptation in Social Life – Tom Seeley – If you really want to understand what is going on inside the hive and how the colony allocates work and makes decisions this is a great book.  It is based on thorough scientific work and is very readable.
Honey Bee Democracy – Tom Seeley – This is one of my "Pride of Place" books.   I found this book inspiring.  I could not put it down.  Although it is based on hard scientific research, it takes you through the decision-making process of a swarm moving to a new a new nest site.   This book gave me a respect and fascination for the honey bee, that became a passion for studying for the advanced BBKA modules and assessments.
The Buzz about Bees – Jurgen Tautz – A really well illustrated book on the colony as a super organism.  I really enjoyed reading this book, which gets you thinking about colony behaviour and challenges some of accepted understanding about roles in the colony and decision making.
Top 3 Honey Bee Biology Books
The Honey Bee Inside Out – Celia F Davis – This book is a very clear and well a explained overview of the anatomy and biology of the honey bee.
Form and Function in the Honey Bee – Lesley Goodman – This is one of my "Pride of Place" books.  It is a large book, so you will need a tall shelf for it!  This book is brilliant.  If you really want to get into the detail of the workings of honey bee anatomy this book has some great explanations, excellent drawings and some brilliant high resolution and electron microscope photos.
Understanding Bee Anatomy – Ian Stell – The high resolution and electron microscope photos and illustrations in this book are very good.  It gives a detailed picture of the physical make up of the honey bee at all stages of its development.
Top 3 Honey Bee Queen Rearing Books
Mating Biology of Honey Bees – Koeniger, Koeniger, Ellis & Conner  – This is one of my "Pride of Place" books.  This book is right up to date with the latest research and answers some of the open questions about queen and drone mating behaviour and challenges some of the traditional wisdom.
Queen Rearing Simplified – Vince Cook – This is almost more of a pamphlet than a book, but it's strength is in its simplicity.  The elegant way of rearing queens using the natural resources of a single hive, with equipment that all small-scale beekeepers will have to hand, is very appealing.
Queen Bee – Biology, Rearing & Breeding – David Woodward – This book is a well written and well-illustrated.  It covers several practical methods of queen rearing, which can be used by the small-scale beekeeper.  It also has sections on genetics, mating and Artificial Insemination.
Top 3 Beekeeping Microscopy Books
Practical Microscopy for Beekeepers – Bob Maurer – This is a simple and clear guide to starting on microscopy.  It covers the core methods involved with using microscopes for making up pollen and anatomy slides, as well as dissection and disease analysis.
Anatomy & Dissection of the Honeybee – H.A. Dade – This is a key reference book for understanding the anatomy and how to go about the dissection of the honey bee.  It is very readable and together with the hand drawn plates are a great assistance to anyone getting practical with honey bee microscopy.
Pollen Identification for Beekeepers – Rex Sawyer – This book provides a structured way of understanding pollen, as well as providing the characteristics and photos (black and white) of most of the plants which provide honey bee forage, in the UK.  I found it pretty much essential when studying for the BBKA Microscopy assessment.
Best Beekeeping Books Summary
There are many great beekeeping books around and new ones coming out all the time.  I have tried to highlight the ones, to you, that I have found most inspiring and informative in my beekeeping journey, my favourites are:-
If you find these suggestions helpful, please provide some feedback in the comments and like/share on Facebook.